CASE STUDY : Hamilton Fraser
Sector:

Financial services
Objective:

To create portable exhibition stand
Calderstone service:

Exhibition display stands, large format
The story:
Hamilton Fraser provides specialist insurance services throughout the UK and overseas. They only deal with the UK's leading insurers and their success over the last 15 years has been largely down to their unique approach to insurance – a blend of traditional values and state of the art administration.
Calderstone was tasked with supplying cost-effective exhibition display stands complete with suitable graphics for one of their brands, Cosmetic Insurance.
The specification for the exhibition display stands included 1 x Impact pop-up stand (3 x 3 panel format), 1 x set of graphics to fit the concave surface of the stand including roll ends and table wrap, 1 x table/case with wood effect top and 1 x set of lights. Each panel is the same dimension 673mm x 2225mm – 3 front panels plus 2 ends, giving a total graphic size of 3365mm wide x 2225mm high.
The stand was used initially at the FACE Conference but, owing to its portability, can easily be transported and displayed at other events in the future.
See other examples of our large format printing services here
In the short time we have worked with Calderstone it feels they have quickly become an extension of our marketing team.  Our account manager Barry is very attentive and ready to go the extra mile to ensure a job is delivered on time and to the high standard we expect.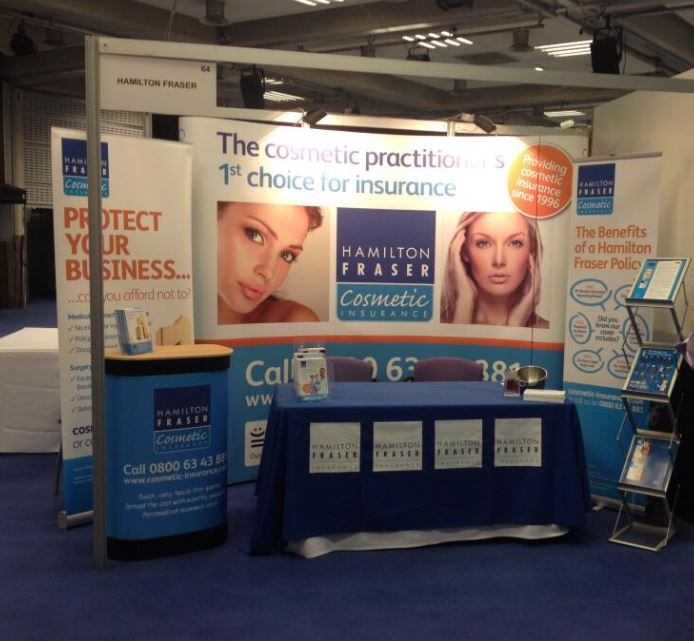 Download a PDF of this Case Study
Download