Promotional Products & Gifts
If you are looking to engender brand loyalty, promote a new product or service, reward staff or need clothing for an event or exhibition, then promotional products, gifts and branded merchandise can be very effective.
Research would suggest that branded promotional products are second only to TV advertising in people's perception of which media has the best ability to stimulate recall of a product, brand or service.
With many years experience of supply promotional products to business across London, we have the expertise to help you choose exactly the right product for your needs.
We will advise you on how to supply artwork and provide you with visuals. Where appropriate, we will send you product samples for you to approve. From sourcing a single gift to managing a large campaign, we can help and this case study illustrates our commitment to service.
With a range of over 50,000 ideas Calderstone is able to supply pretty much any product for promotional marketing.
However, before looking at these ideas it is best to think of your objective for branded merchandise, who the recipients are likely to be and what would they find useful.  We can then work through products and samples to perfectly hone the ideal gift for your customers or prospects.
The graphic below provides an insight into some of the key areas we believe you should consider when making decisions on how to make use of promotional merchandise products: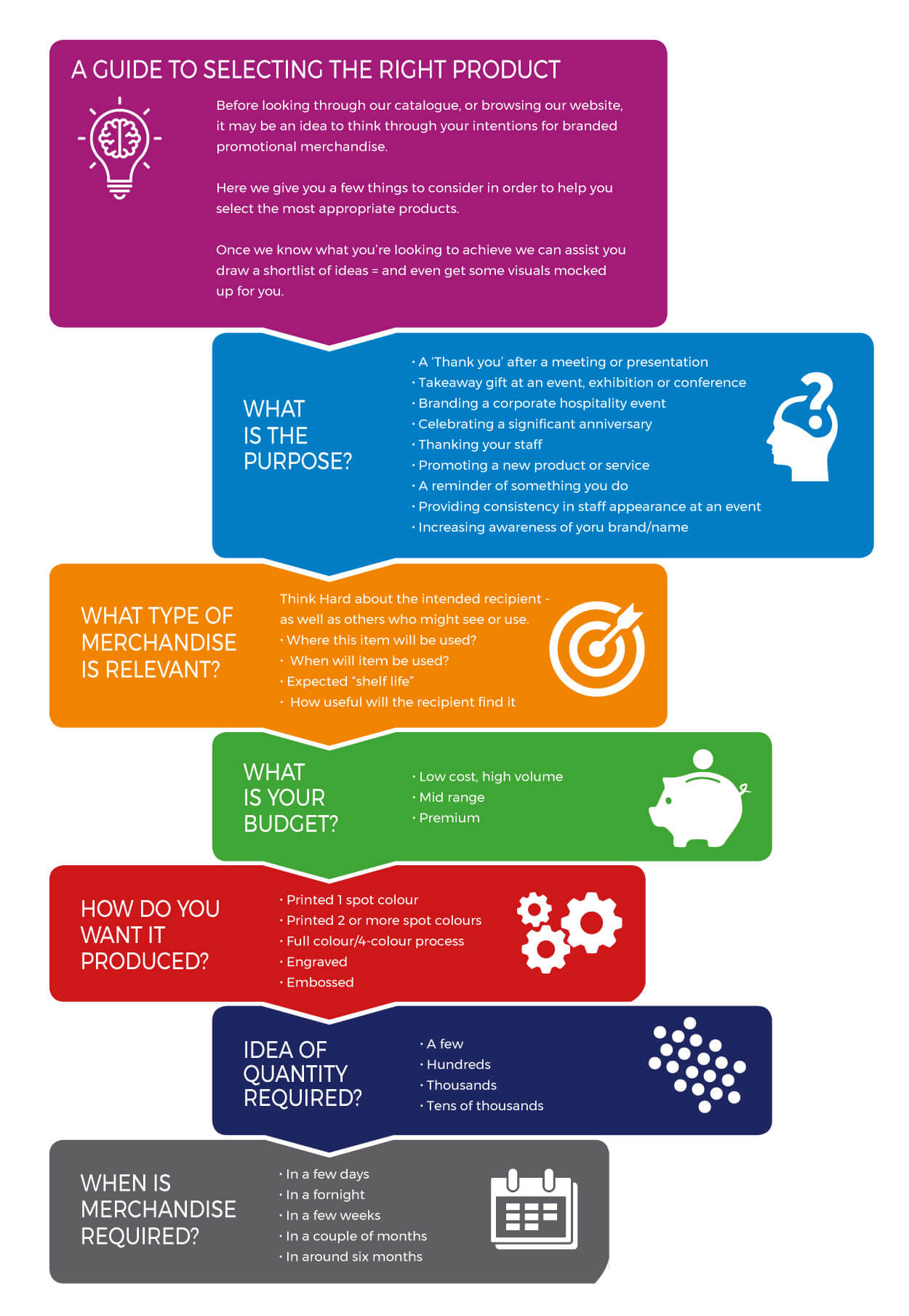 A survey by the BPMA indicates that branded promotional products can benefit a brand.  Here is a synopsis of their results:
66% of participants claimed they could recall the brand on the promotional product received with the past 12 months.
The ROI on promotional products delivered a better return on investment than radio and outdoor advertising, and is equal to TV and print.
79% would be likely to do business with the company again.
Most participants (87%) kept a promotional item for longer than a year!
About half (56%) said their impression of the company improved after receiving a branded promotional gift.
When it comes to how long a promotional product is kept, mugs were reported to be kept longer than any other promotional item.
When it comes to longevity, a good portion of them – 87% – said they kept a promotional item for longer than a year and 30% keep promotional products up to 4 years.
The impact of these products on recipients is great. They can recall the specific type of product received and also remember the brand name or name of the company for a long period of time after receiving it.
In fact, over 94% of those who participated in the research study said that they do not forget the advertiser or the product advertised.
To find out how Calderstone, London can help you develop your promotional product strategy why not get in touch on 020 8391 3001 or submit an enquiry form.