We all have to make them, all the time.  Big, momentous decisions and small, relatively inconsequential decisions.
Well, the good news is that there are no terrible choices to be made while reading this article – although we will be showing you how you can make the right choice when it comes to paper samples for your next print project.
Swatches
No, we're not talking about the watches!  We're talking about the paper swatches that are an ingenious way of displaying multiple options in a concise and user-friendly way.
Here's what ours looks like: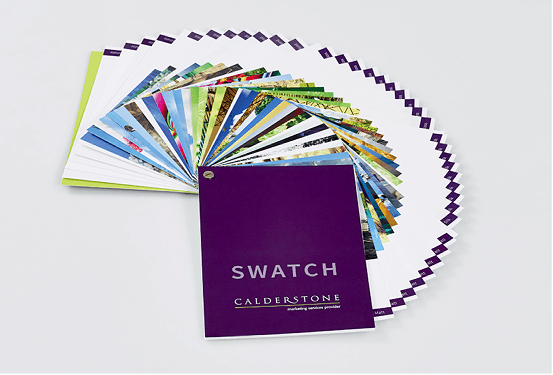 Are you involved with specifying print jobs?
If so, you will know that selecting the right weight and type of paper to use can be quite a challenge.
So how can we help you?
Here's how. Our new A5 sized swatch creatively displays the most commonly used paper and board weights, all in gloss, silk, matt and uncoated finishes as well as including the most popular laminations. Simple but effective.
Now, choosing the best specification has been made easier for you!
For your FREE swatch please call Martin Bender on 020 8391 3001 or email martin.bender@calderstone.com quoting "Free swatch" in the subject line.
Important. Stocks, as you might expect, are limited so do please contact Calderstone now if you would like a copy.
Marketing expertise …
With our track record of many years of successful marketing advice – supported by our range of brilliant promotional products – we have helped numerous clients to distinguish themselves from their competitors, increase their brand awareness significantly, and position themselves as front-runners in their respective marketplaces …
… and we can do the same for you.  Our team of friendly experts is waiting to give you help and advice on how to be more visible, more distinguished, more sought after … and, ultimately, how to sell more of your products and services.
We're here to help
To find out more, please click here for our home page, or call us any time on 020 8391 3001
and we'll be absolutely delighted to help you to make the difference that you want to make.