In a previous article we took a quick look at the history of printing and its interesting evolution to where we are today – with several different printing techniques in widespread use. 
These include silk screen, letterpress and gravure, and more commonly digital, litho and web offset, and we provided a brief introduction to the three latter techniques.
In this article we're going to concentrate on litho printing processes, and cover when they are appropriate to use over the other techniques.
Litho printing – how it works
As we mentioned before, the litho printing technique uses a printing plate, which has the image to be printed in relief (i.e. standing out slightly from the plate) on its surface
The printing plate is kept dampened
Ink is applied to the plate
The printing cylinder rotates, and as it does so the ink is transferred to the blanket cylinder
The ink is then pressed onto the material to be printed upon as this material passes through the machine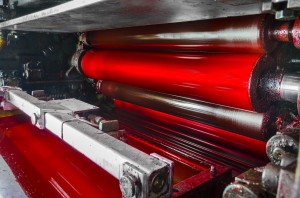 Note that with some modern lithography printing machines the image is put onto the printing plate by shining ultra violet light through a negative (similar to a photograph negative). The plate is coated with a chemical which allows the ink to attach to the image area.
If different colours are needed for the final print – the same material will be sent through up to 12 units on a press, and for each unit different colours can be applied. This is done until the print is completed.
Litho printing – when?
Each of the different printing techniques has its own advantages, and the decision as to which one to use typically comes down to:
how many items you want printed
how quickly
on what material
the desired quality (colour, resolution etc.)
how much you want to spend
Generally speaking you would use litho printing processes when:
you are looking for long print runs
you want these long print runs to be produced quickly
you are looking for Pantone matching
you want to print unusual sizes
As a consequence, you'll find that many commercially-printed books, brochures, business forms, catalogues, labels, letterhead, newspapers, magazines, posters, product packaging and stationery are produced using the lithographic process.
Expert guidance
Remember, these are simply guidelines.  The important point is, you need to find a printer who knows all of the different techniques inside out, will understand the advantages and disadvantages of each based on your specific requirements, and finally will be able to offer you impartial, pragmatic and expert advice …
… and once again the good news is – you've found one!
Click here for a reminder of the key printing processes, here for general information on our print services, or here for our home page.  Alternatively call us on 01737 458 123 and we'll be delighted to give you the benefit of our experience and help you select the right printing process for your needs.