At first glance the decision on how many promotional products to order doesn't seem a difficult one, but there are a number of considerations you need to think about before you take the plunge.
And it's not just about the cost, although of course that's an important factor.  The balance here is between what you can afford set against the return on investment that you hope to achieve … and sometimes it's worth asking, what will the cost to your business be of not achieving your goal?
So, mindful of budgeting considerations and company objectives, first think about the moment in time when the promotional merchandise will be given out.  Will it be at a special event, such as an exhibition or conference?  If that's the case, you may opt for a higher volume of lower cost per item products.  If it's a smaller affair, you should perhaps consider a lower volume with a higher cost per item; and of course, the net budget may be the same.
Think too about what you want the shelf-life of the promotional product to be.  Clearly if it's edible, that won't be very long, so you need to be confident that you can distribute them all in time.  And if it's date-specific – e.g. for an event – you'll need to have accurate data on how many people are coming to avoid over-ordering, as they won't be as desirable once the date has long passed.  Of course, you don't want to under order either, which brings us right back to the data.
You've decided what you want to give out, when, and to whom, so the all important question is, will you be able to?  And the key to the answer boils down to this – do you have accurate data on the recipients, whatever the distribution method?  If it's an exhibition, how many people are booked to come each day?  How many walk-ins do the organisers expect?  What's your estimate of how many people will visit your stand?  If it's a conference or smaller event, how many people are definitely coming?
It's a balancing act, of course.  If you're opting for the higher volume lower cost per item approach, it may not be such a problem if you over-order – especially if the promotional products will age well.
The best thing you can do is talk to experts, who have vast experience in making the right calls, and who can steer you through all the decisions you have to make, ensuring that you make the right ones.
We'll be writing further articles taking you through every step on the journey; guiding you through the important decisions; offering advice when you have options; and ensuring that you make the right choices.
Click on the infographic below to see all the areas which we'll be covering, and how we'll approach them.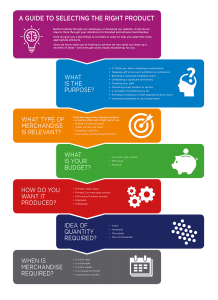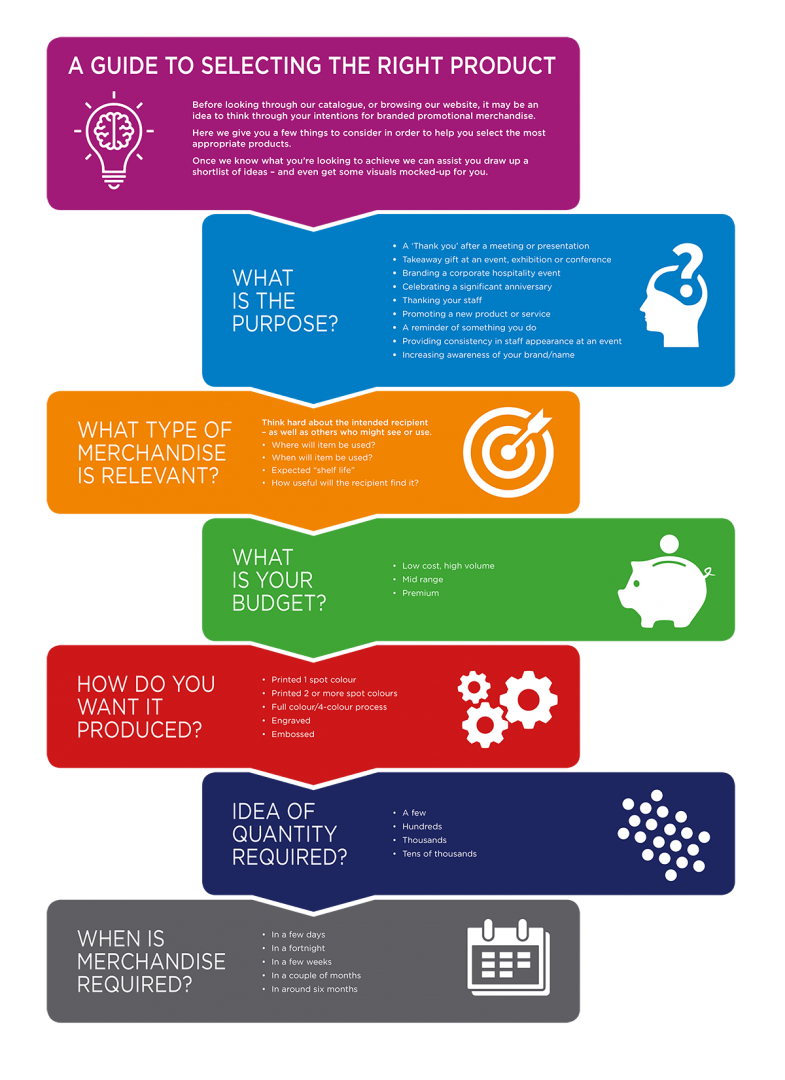 You can click here to learn more about many of the brilliant promotional products that we have, here for our home page, or if you wish to contact us use the contact form or call us any time on 020 8391 3001 and we'll be delighted to help you!