The right packaging can take a product from good to great and, more importantly, from the shelf or web page into your customer's basket. We've put together some tips, below, for making sure your product is presented at its best.
The basics: what's the purpose of the packaging?
Consider what the purpose of the packaging is and make sure it ticks key criteria before moving onto anything else. Think size – does it need to fit just one product, or multiple? Is it promotional packaging with branding to be linked to a particular campaign? Will you be adding a custom-made box insert to protect the product? Make sure that fits. If you need one box for different uses, choose something that will make each product shine – you don't want something that makes one product look great but doesn't show off another to its best. You'll also want to think about material. For larger or heavier products, choose something more robust. And the last key thing: postage. If you send items, think about costs for different package sizes and make sure you're not spending more on postage because of an unnecessary extra centimetre of box.
Packaging durability and convenience
We've covered choosing strong materials to match bigger and more solid products, and the same goes for fragile products. Make sure your box will get your product to the customer in great condition. If you're putting products in the post, this is vital. It'll be more expensive in the long run to replace product than to pay now for suitable packaging.
How are you storing the packaging? If you're short on space in your shop, warehouse or office, flat pack might be a better option than a readily assembled box. Just remember to budget time for putting packaging together.
With product packaging, looks matter
No matter what people say, looks are important. You'll want something that complements your brand in its colour, style and finish. Customers often choose a product based on how it looks or colour, so think carefully about your customer demographic and what matters to them and consider working with a packaging designer. Perhaps they appreciate luxury, so the quality of materials is important. They may be environmentally conscious, so you may choose to use as little unnecessary packaging as you can. You'll want the packaging and the product to be memorable. One way to do this is to personalise your packaging; custom printed packaging with your brand logo makes packaging look high quality and professional.
How Your Packaging Influences Buyer Behaviour Infographic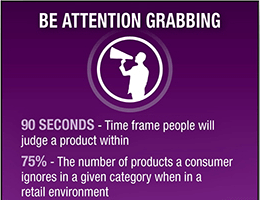 Your product packaging design can the one thing that makes your product stand out on shelves. You want to grab buyer attention and provide the right messages to ensure your branding is memorable. What's more important, the colour? material? images? We've put together a detailed infographic featuring the latest statistics of how consumers are influenced by packaging.
Calderstone
To maximise the effectiveness of your product packaging you need to speak to the experts… and you're in the right place!
To find out more about how we can help ensure your brand stands out please contact us or call 020 8391 3001. We'd be delighted to help you.