If you're looking to impress your potential customers or provide an eye-catching display, promotional packaging is an excellent way to start. Offering personalisation and something a bit unusual on anything from box packaging to presentation packaging, you can set your brand apart with the way you package your product. If you're thinking about getting into promotional packaging, whether it's a temporary offer or long-term marketing, here are some types to consider:
Base and lid packaging
For a stunning luxury finish, combine a quality box and lid with your logo in gold or silver foil blocking. Not only does this create an opulent feel, but it's also something your customers will be more likely to keep – especially if it contains precious items such as jewellery. For other, larger or less delicate products, consider pairing base and lid packaging with contrasting tissue paper for a costly feel.
Folded Cartons
A traditional and well-known form of packaging, ideal for stacking and storing. Folded cartons offer countless opportunities for creativity, from using a variety of contrasting colours to even having the ability to create a full image from a set of cartons. Novelty sells and sticks in customers' minds in a way standard packaging can't.
Sleeve Packaging
One of the most common forms of packaging, sleeve packaging is an excellent way to get your message across on square or rectangular packaged products – make use of vibrant colours relevant to your brand or even smart visual design to make your product the one they want to pick up from the shelf. With the least materials involved, the sleeve is an eco-friendly choice.
Hinged Lid Packaging
Perfect for 'the big reveal' – this packaging is ideal for consumables and toiletries, providing a 'hamper' type effect for a far lower price. Printing on the inside of the box can also be a fantastic way to add a bit of extra marketing, and a bright colour draws the eye. With hinged lid packaging, you can post your product as-is if you operate online – no need for extra materials.
Magnetic Closure Packaging
Make your business memorable with a magnetic closure package. If you're going the extra mile for your customers – particularly when luxury products are concerned, they will be appreciative. Utilise dark jewel tones for an after-dark feel or stark whites for a modern feel. Like box and lid packaging, customers will be far more inclined to keep packaging like this handy – positioning your brand at the forefront of their minds.
HOW YOUR PACKAGING INFLUENCES BUYER BEHAVIOUR INFOGRAPHIC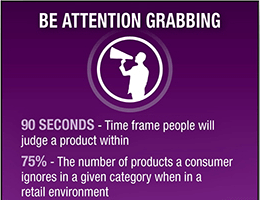 Your product packaging design can the one thing that makes your product stand out on shelves. You want to grab buyer attention and provide the right messages to ensure your branding is memorable. What's more important, the colour? material? images? We've put together a detailed infographic featuring the latest statistics of how consumers are influenced by packaging.
CALDERSTONE
To maximise the effectiveness of your product packaging you need to speak to the experts… and you're in the right place!
To find out more about how we can help ensure your brand stands out please contact us or call 020 8391 3001. We'd be delighted to help you.