Your brand packaging is a fantastic way to instantly grab your potential customer's attention in a crowded marketplace. In fact, it is possibly one of the most important ways of doing so. Although we're always told not to judge a book by its cover, when people are scouring the shelves for what they want to buy, typically how it looks will feature heavily in their purchasing decision, even if they don't know what the product is like to use.
Your promotional packaging is one of the greatest ways of communicating your brand story. It enables your business to show what your ethos is, where you sit in the market, and why you matter. It helps you to become memorable, as people connect colours and images with who you are and what you sell. Your packaging is what will help to explain to people why they should care – you are visually storytelling through your branding. With your label, you can explain more about who you are, add witty puns if relevant, and demonstrate succinctly why people should buy your product.
Through your packaging, you can also hook your customer into your brand emotionally, inviting them to experience an emotional response whenever they see your brand on the shelf. This may be of happy memories, or those of enjoying the brand experience. In order to be able to do this, it is important to consider who your customer is, what they are interested in, what spikes their happiness, and what type of character they are. Are they serious or fun? Relaxed or adventurous? High earners or entrepreneurs? Knowing who your customer is can help you tailor your packaging best to what grabs their attention.
Getting your packaging right can make all the difference. You need to stand out on the shelf. This can be achieved by using memorable imagery, through the shape of your product, the colours you use and what shape your label is, plus any patterns it might include. Consider what the rest of your market is doing – you need to stand out without feeling like you are on the wrong shelf. It should feel appealing and be inviting, while also seeming familiar. Your brand name needs to be the first thing people see – unless you are big time like Coca-Cola, it's hard for people to just see colours and understand who the brand is. Finally, you should mention what the product is clearly, following this underneath with either your USP or what makes you unique. This will help drive customers with their purchasing decision.
How Your Packaging Influences Buyer Behaviour Infographic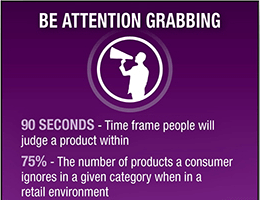 Your product packaging design can the one thing that makes your product stand out on shelves. You want to grab buyer attention and provide the right messages to ensure your branding is memorable. What's more important, the colour? material? images? We've put together a detailed infographic featuring the latest statistics of how consumers are influenced by packaging.
Calderstone Services
To maximise the effectiveness of your product packaging you need to speak to the experts… and you're in the right place!
To find out more about how we can help ensure your brand stands out please contact us or call 020 8391 3001. We'd be delighted to help you.